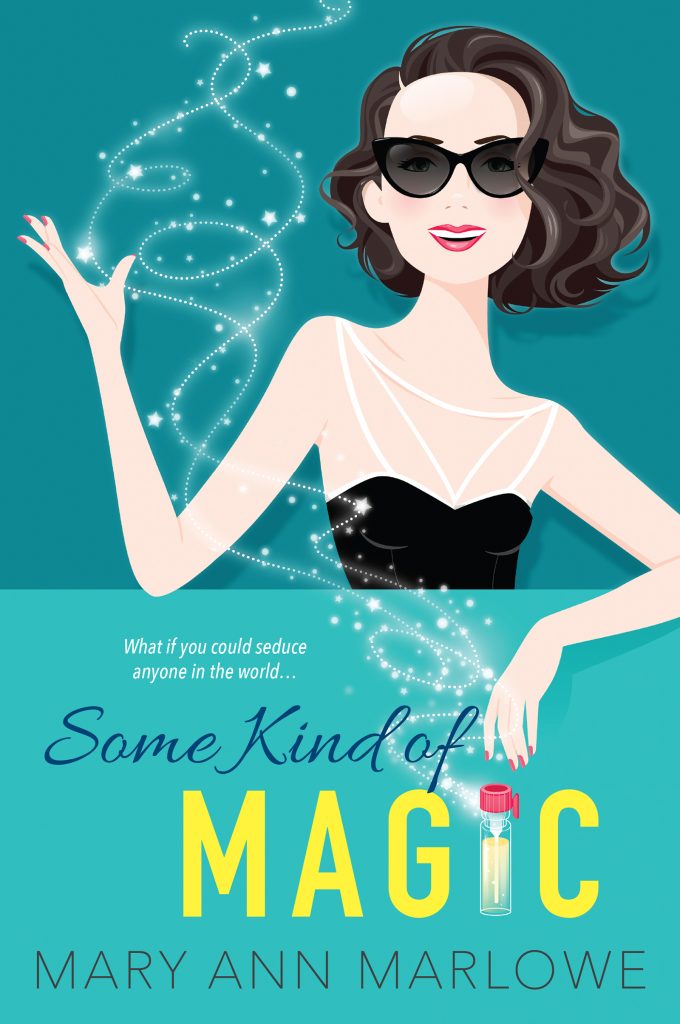 Title: SOME KIND OF MAGIC
Author: Mary Ann Marlowe
Publisher: Kensington
Publication Date: January 31, 2017
Goodreads | Amazon | Barnes & Noble
About SOME KIND OF MAGIC . . .
"An amazing first novel." —Sydney Landon, New York Times bestselling author
In this sparkling debut novel, Mary Ann Marlowe introduces a hapless scientist who's swept off her feet by a rock star—but is it love or just a chemical reaction?…

Biochemist Eden Sinclair has no idea that the scent she spritzed on herself before leaving the lab is designed to enhance pheromones. Or that the cute, grungy-looking guy she meets at a gig that evening is Adam Copeland. As in the Adam Copeland international rock god and object of lust for a million women. Make that a million and one. By the time she learns the truth, she s already spent the (amazing, incredible) night in his bed.

Suddenly Eden, who's more accustomed to being set up on disastrous dates by her mom, is going out with a gorgeous celebrity who loves how down-to-earth and honest she is. But for once, Eden isn't being honest. She can't bear to reveal that this overpowering attraction could be nothing more than seduction by science. And the only way to know how Adam truly feels is to ditch the perfume—and risk being ditched in turn.

Smart, witty, and sexy, Some Kind of Magic is an irresistibly engaging look at modern relationships why we fall, how we connect, and the courage it takes to trust in something as mysterious and unpredictable as love.
Excerpt from SOME KIND OF MAGIC . . .
I scanned the rest of the room. I wasn't surprised to see hehad a turntable. Micah had been buying vinyl for years. An entertainment unit held a wide-screen TV and a stack of DVDs. I walked over to check out his movie collection. A Netflix envelope sat on top, and I read the address. The name rang a bell.

"Adam Copeland?"

Then I remembered. Stacy and Kelly had crushed on a rock singer with the same name for a few weeks last summer, another impossibly hot guy with red hair. No, wait, that was a different band. I could never keep their celebrity crushes straight.

My eyes went wide. What if this was that same guy? They would die. He was a musician, after all. A wave of nausea crested as I took in my surroundings. The guy certainly hadmoney.

Adam glanced up from a stack of records and caught me staring at him. "What?"

"Your name is Adam Copeland?" My mind raced. The apartment was his parents', so the money was probably his parents', too. If he was a rock star, wouldn't he have some lavish penthouse overlooking Central Park?

He went back to flipping through albums, nonplussed. "Oh, yeah."

I narrowed my eyes. If I asked him straight up, he'd think I was crazy, so I casually sauntered over to the side of his bed and leaned back, facing him. I picked at the hem of my shirt, and then, as though I was teasing, I tested the waters. "So, does everyone ask you if you're any relation to that guy from that band?"

"Huh?" He pulled out a Van Morrison album and then dropped it back down, still on the search for whatever he was looking for.

Then it hit me. "Oh, God. I'm sorry. It must be an incredibly common name."

He froze in place like a deer caught in the headlights, like he had no idea what I was talking about.

This was embarrassing. Awkwardly, I fumbled for an explanation, rambling. "You know that band? They have a song that gets played about a million times an hour." On the spot, I couldn't even remember the band's name. I scraped my brain, tapping my fingers on the bed post. It came to me out of nowhere. "Walking Disaster!"

Adam rolled his eyes. "Riiiight." He settled on an album andslid the vinyl record from the sleeve.

I hoped I hadn't offended him somehow. Maybe it was an irritating comparison. If someone famous had my name, I'd find it annoying.

What was I thinking? As if some famous musician would just hang out at a club and buy me beers. And flirt. He'd definitely been flirting with me. Guys within my limited reach rarely bought me beers and flirted. How much chance would I have with a freaking rock star? I laughed at myself for losing my head temporarily.

Unfazed, Adam dropped an album onto the turntable. I smiled as a dead sexy Arctic Monkeys song started. "I love this song!"

He sidled up next to me and bumped me with his shoulder. "So you like that band, Walking Disaster?"

Was this a litmus-test question? Like asking someone if they like Nickelback? What if he had a checklist, too? What if he only liked girls who listened to the "right" music and immediately disdained girls who listened to whatever he found uncool? And why did I suddenly care what kind of girls he might like?

I shrugged, reaching for a safe nonchalant answer. "I don't normally listen to them unless they come on the radio. I don't intentionally listen to much current rock music, except for Micah's. But my coworkers gush about that band. They tried to drag me out to see them just recently."

"But you didn't want to go?"

"No, I would've gone. But it was at the Meadowlands, and it was a weeknight. I had to get up early the next day."

"To make perfume, right?" He leaned closer and breathed in. "What's the name of this one?"

"Oh, I don't know."

"Mmm. You should call it 'Irresistible.' It smells nice." He lifted my hand and laid a kiss against my wrist. My brain told me I should leave. I barely knew him.

But I didn't want to leave. Adam's lips felt so good against my skin. His dark eyes sought mine, looking for permission, maybe. The naked desire etched on his face sent a tingle through me. I wanted to feel his lips on mine, but he held back, so I bent toward him. He kissed me soft, and I tasted the hint of Jamaican spiced rum.

He broke away and drew back, so close but too far away. His eyes pierced mine, and his breathing hitched, but he hesitated. I felt tethered there, unable to move back, wanting to move forward. I reached up to touch the stubble on his cheek, then that cord on his neck I'd wanted to touch earlier. Without another thought, I twisted my fingers in his hair and pulled him back to me.
About Mary Ann Marlowe . . .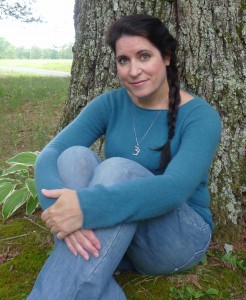 Some Kind of Magic is Mary Ann Marlowe's first novel. When not writing, she works by day as a computer programmer/DBA. She spent ten years as a university-level French professor, and her resume includes stints as an au pair in Calais, a hotel intern in Paris, a German tutor, a college radio disc jockey, and a webmaster for several online musician fandoms, plus she has a second-degree black belt. She has lived in twelve states and three countries and loves to travel. She now lives in central Virginia where she is hard at work on her second novel. She loves to hear from readers and can be reached through her website at www.maryannmarlowe.com, Facebook, and Twitter.
Enter the Giveaway . . .
One winner will receive a $50 Amazon OR Book Depository Gift Card (International). Three winners will win a signed copy of SOME KIND OF MAGIC (US only).

Save
Save