Genre: YA Fantasy
Release Date: January 8th 2019
Entangled Teen
Summary:
When a stranger gives Analiese Jordan a list of names before he dies, the last thing she expects to see is her own on it. Not. Cool. Her search for answers leads to the man's grandson, Marek, who has dangerous secrets of his own. Both are determined to unlock the mystery of the list.
But the truth is deadly. Analiese is a descendant of the God of Death, known as a Riser, with the power to raise the dead and control them. Finding out she has hidden powers? Cool. Finding out she turns corpses into killers? No, thank you.
Now the trail plants her and Marek in the middle of a war between gods who apparently want to raise an army of the Risen, and Analiese must figure out how to save the world—from herself.
Pre-Order a copy HERE!
And receive a swag pack along with a couple's Red String of Fate bracelet set. 
Wear one and give one to someone you care about like a boyfriend, girlfriend, wife, husband, sister, brother or child.
"An invisible red thread connects those who are destined to meet, regardless of time, place, or circumstance.
The thread may stretch or tangle, but will never break."~ Chinese Proverb
To get your gift for pre-ordering ANALIESE RISING by Brenda Drake on or before January 8, 2019,
go to brendadrake.com and fill out the form.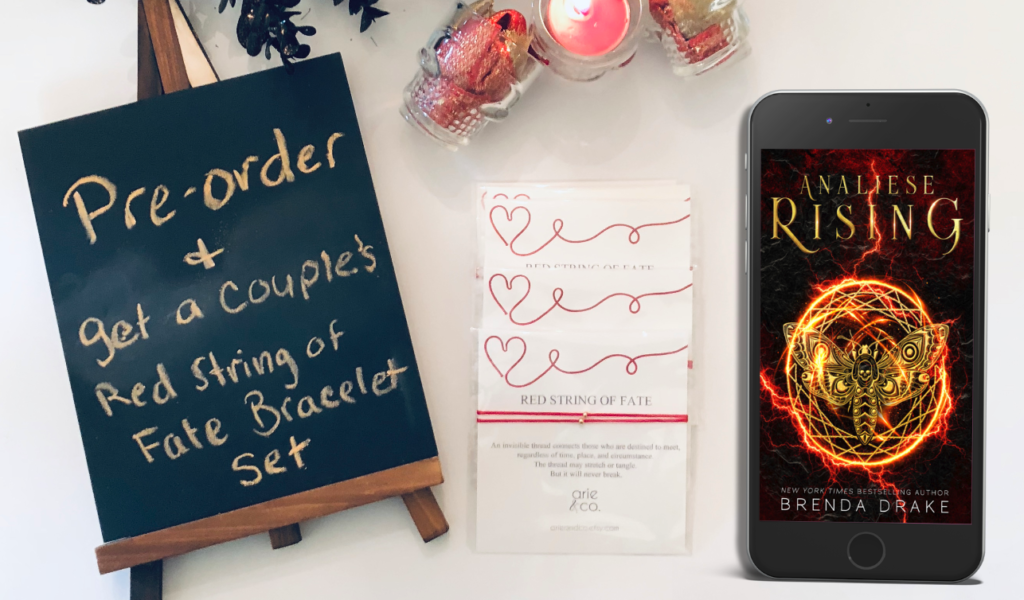 About the Author
Brenda Drake grew up the youngest of three children, an Air Force brat, and the continual new kid at school. Her fondest memories growing up is of her eccentric, Irish grandmother's animated tales, which gave her a strong love for storytelling. With kids of all ages populating Brenda's world, it was only fitting that she would choose to write stories with a bend toward the fantastical for both younger readers and the young at heart. And because she married her prince charming, there's always a romance warming the pages. Her favorite books are The Secret Garden by Frances Hodgson Burnett, The Lion, the Witch and the Wardrobe by C.S. Lewis, Kings Row by Henry Bellamann, and Anna and the French Kiss by Stephanie Perkins. When she's not writing, she hosts workshops and contests for writers such as Pitch Wars and Pitch Madness on her blog, and holds Twitter pitch parties on the hashtag, #PitMad. In her free time, Brenda enjoys hanging out with her family, haunting libraries, bookstores, and coffee shops, or just reading someplace quiet and not at all exotic (much to her disappointment).
Cover Reveal Organized by: